Eastey Professional Series Automatic Bundler | Models EB35A EB50A EB70A EB80A
Proven reliable over and over again, EASTEY's automatic bundler provides you with all the quality features found in much higher priced machines. They are designed and built to give you all the features needed for positive sealing of polyethylene film.
EASTEY'S automatic bundler's are expertly welded on 1/4" cold rolled steel frames and designed to handle the day to day abuse of even the most demanding bundling applications. Each bundler utilizes two rolls of single wound film mounted on the same side of the machine and an upper and lower power film unwind for ease of use. See for yourself why EASTEY has been a leader in the shrink packaging industry for over 25 years.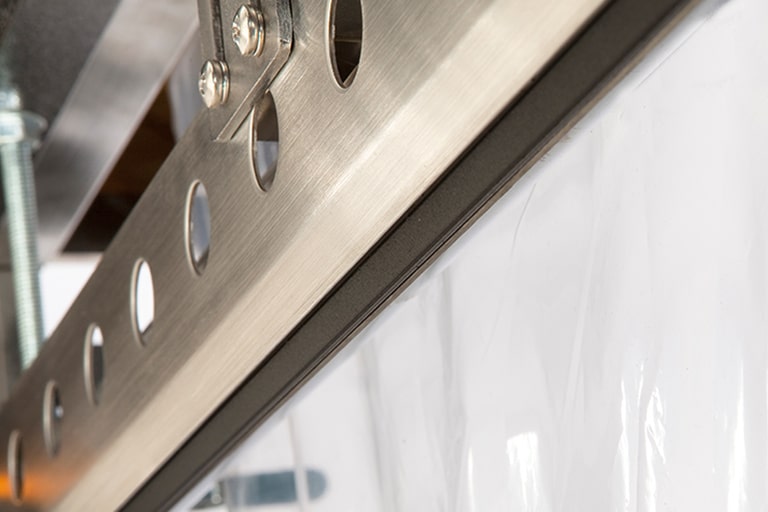 35", 50", 70″, & 80", hot knife seal system ensures a clean, positive, and even seal every time.
Eastey Professional Series Automatic Bundler Features
Designed to seal polyethylene films
35", 50", 70″, and 80" wide hot knife seal system
22" adjustable product pass through height
Optional infeed product guides where necessary
Upper and lower powered film unwind for smooth feed of film
Film loading from left or right side
Color PLC touchscreen operation for easy adjustments
Optional password protection
Self tracking conveyor belt and product indexing
Flexibility for fully automatic or single product operation
Left or right angle infeed conveyors available
Manual infeed available
4' conveyor length standard
78" max film width
12" max film OD
All-welded main frame from 1/4" cold rolled steel
Bases supplied with locking casters for easy transport
Leveling legs to provide study base
Durable custom two-part epoxy finish resists scratching
220v standard. Optional 480V
Made in the USA
Easy to use design requires minimal training, maintenance, and trouble free operation
Eastey Professional Series Automatic Bundler Model Specs